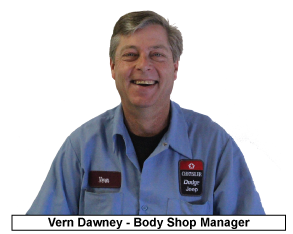 Hello, my name is Vern Dawney. 
Call me for a free collision estimate 
at 705-384-5352
Make an Inquiry
Mac Lang's Collision Centre is here to help
Our certified autobody repair people know exactly how to repair your vehicle.  We use the right equipment, the right materials and the right paint to return your vehicle to the way it was before the collision.  You've made a significant investment in your vehicle. Protect it.


ALL MAKES Collision Repair
Free Estimates 
OPEN SATURDAY


We are INSURANCE EXPERTS. 
Remember! It's your choice where to have your vehicle repaired. Not your insurance company's. We don't cut corners to offer a better price because we believe a job is worth doing right. We will gladly help you interact with your insurance company with all the paperwork needed to process your claim and repair.
Collision repair by our trained and certified autobody technicians: 
 Ensure trade-in or re-sale value 
 Ensure future warranty protection 
 Ensure  peace of mind with guaranteed work
 Performed using only manufacturer certified parts, materials and paints.